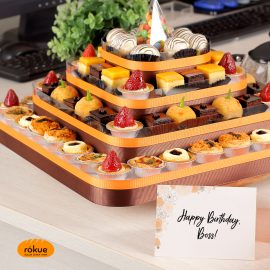 PROJECT DETAILS
---
Rokue is the best snack box in town! With assorted specialty cake, bread, and traditional delicacies, they've managed to be known through word of mouth. But they do not exist in social media, that is why they approach Essentials! to partner up and create great content together.
PROJECT TYPE
---
Social Media Strategy, Management &
Content Creation
CHALLENGES.
---
Rokue is well known through word of mouth but they do not have any digital presence.
STRATEGY.
---
To introduce Rokue Snack on social media, we've posted product knowledge & testimonials heavily in the first month to increase trust value. We also did photo & video production for Rokue's Instagram feed & Instastory.

Followers in two weeks